07.04.2023
CIAŁO: joga + sztuka
Hej!
Chciałbyś spróbować swoich sił w rysunku postaci? Praktykujesz jogę lub chciałbyś zacząć?
Mamy coś dla Ciebie, ta dam!
CIAŁO
warsztaty jogi i rysunku postaci
dla kogo:
dla każdego powyżej 14 roku życia
cel:
Praca z ciałem i nad ciałem.
To jedyne w swoim rodzaju warsztaty łączące slow jogę, pracę z ciałem oraz rysunku- ciała, modela, postaci. Wyciszony i zrelaksowany po praktyce jogi, przelewasz świadomość swojego ciała na sztalugę pracując nad tematem- ciało.
Czy nie brzmi idealnie?
jak:
50 min jogi+ relaksacja
10 min. organizacja przestrzeni
60 min rysunek postaci (pozycje statyczne, dynamiczne, poznanie anatomii, proporcji, wyrażenie ekspresji i emocji ciała, ciało i portret w historii sztuki np. Wenus z Miło, Trzy Gracje, Dyskobol, Matisse, Degas itp.).
techniki: ołówek, węgiel, malarstwo, rzeźba, kolaż
terminy
23 kwietnia // 11:00 – 13:00
31 maja // 16:00 – 18:00
11 czerwca // 18:00 – 20:00
gdzie
Pracownia Otwarta
Plac Strzelecki 25
Wrocław
opłata
150 zł za osobę
zapisy mailem na oklamut@gmail.com lub poprzez Pracownie Otwartą
prowadzić będą:
Aga.
Prowadzę szkołę rysunku Pracownia Otwarta od ponad 10 lat. Poznałam Olę na lekcjach rysunku. Spadła mi z nieba, podeszłam do niej na lekcję jogi. Tak zostało. Uwielbiam inspirować, ale też uczyć się. Ciało. Rysowałam na milion sposobów, na ASP stworzyłem instalację- pracę dyplomową KREGO-słup, teraz widzę, że to była droga do siebie, wszystkie doświadczenia takie są! Moja pasja połączona z opieką nad ciałem to jest dla mnie 100% balans.
Ola.
Temat ciała przeplata się przez wszystkie sfery mojego życia. Uczę jogi, świadomości ciała i regulowania układu nerwowego. Zajmuje się psychosomatyką jako psycholog zarówno klinicznie i akademicko. Żyję zasadą, że życie to rodzaj sztuki. A odblokowane i płynne ciało pozwala na czerpanie z kreatywności, która jest w każdym i tylko czeka na odkrycie i pielęgnowanie. Dlatego zajęcia rysunku w Pracowni Otwartej z Agą to moja forma medytacji i dbania o siebie, więc niezmiernie się cieszę że będziemy to wspólnie przekazywać dalej!
Dołącz do wydarzenia: FB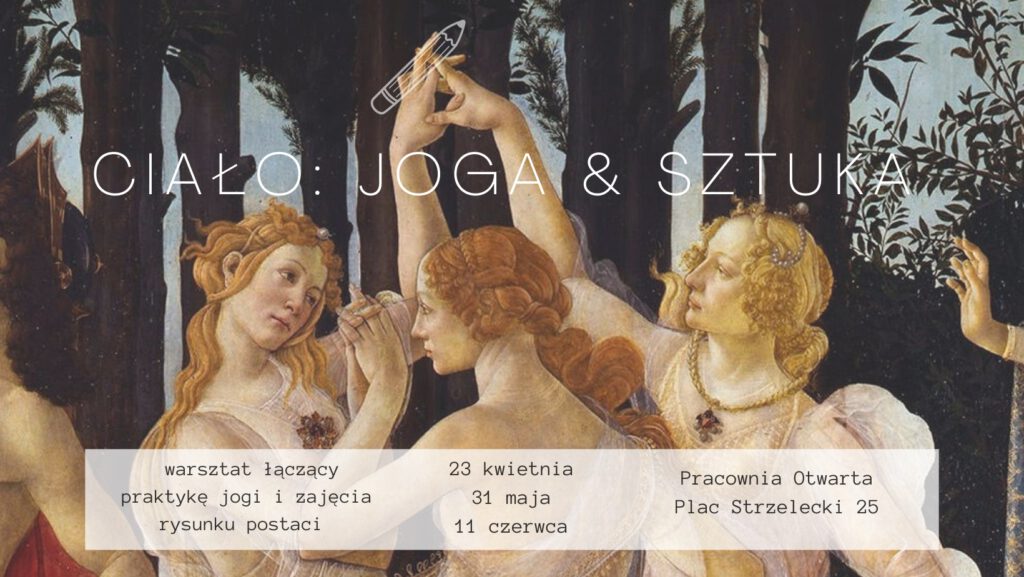 WRÓĆ